---
Seiteninhalt
April 26, 2022
Positive conclusion to DMEA – Connecting Digital Health
After three days DMEA, Europe's leading digital health event, came to a successful conclusion – with around 11,000 visitors, more than 500 exhibitors and 300 speakers from Germany and abroad. Participation in DMEA increased, with attendance four per cent higher than at the last in-person event before the pandemic in 2019.
From 26 to 28 April 2019 the focus on the Berlin Exhibition Grounds was on the digital transformation of the healthcare system. Federal Minister of Health and patron of the event Prof. Dr. Karl Lauterbach opened DMEA: "There can be no significant development of Germany's healthcare system without us strategically expanding digitalisation. That is why I regard myself not only as minister responsible for health, but for digitalisation as well. DMEA is the leading trade fair on this subject. It is Europe's largest trade fair on digitalisation in healthcare and the first congress and trade fair I have visited in person after the difficult period of the pandemic."
In his keynote speech he talked about the electronic file supporting diagnoses, progress with the ePrescription, and the current strategic process involving all stakeholders. Altogether, some 300 speakers presented examples of their best practices at numerous lectures and sessions and discussed the pressing issues surrounding the digital transformation of the healthcare system. Among those who held keynote speeches were Israel's Minister of Health Nitzan Horowitz and Federal Minister of Education and Research Bettina Stark-Watzinger.
Gerrit Schick, CEO of the German Association of Health IT Vendors (bvitg), the organiser of DMEA:
"I saw the event as three days of fascinating encounters, valuable exchanges and sessions offering great insight. Numerous figures representing politics, business and healthcare were present, demonstrating that DMEA is the place to be when the subject turns to the digital transformation of the healthcare system. It is sheer impossible to single out any particular topic at the fair. The various subject areas are so dynamic and as a result there is huge pressure to display innovation. I am delighted that DMEA has developed measurably and for all to see, and that the long enforced break ended on such a positive note."
More than 500 exhibitors presented their innovations at DMEA – with topics ranging from telemedicine, AI applications, medical information systems, operating theatre technology, digital health applications to IT infrastructure and hardware. They included the DMEA Gold Partners CompuGroup Medical, Dedalus HealthCare, ID Information und Dokumentation im Gesundheitswesen, medatixx, Meierhofer, nexus AG and Telekom Healthcare Solutions.
Martin Ecknig, CEO of Messe Berlin: "The positive feedback from those who attended DMEA showed us how important exchanging views face-to-face was after the two-year break due to the pandemic. As the platform for digital healthcare, DMEA gathers everyone involved in the digital transformation of the healthcare system – ranging from digital solution providers and representatives of politics, local government and research, to users such as doctors and nurses.
The in-person event was supported by the DMEA online platform, which enabled users to network and find out about exhibitors. Many of the lectures from the DMEA events programme are available here as on-demand videos until the end of May.
The next DMEA is scheduled for 25 to 27 April 2023.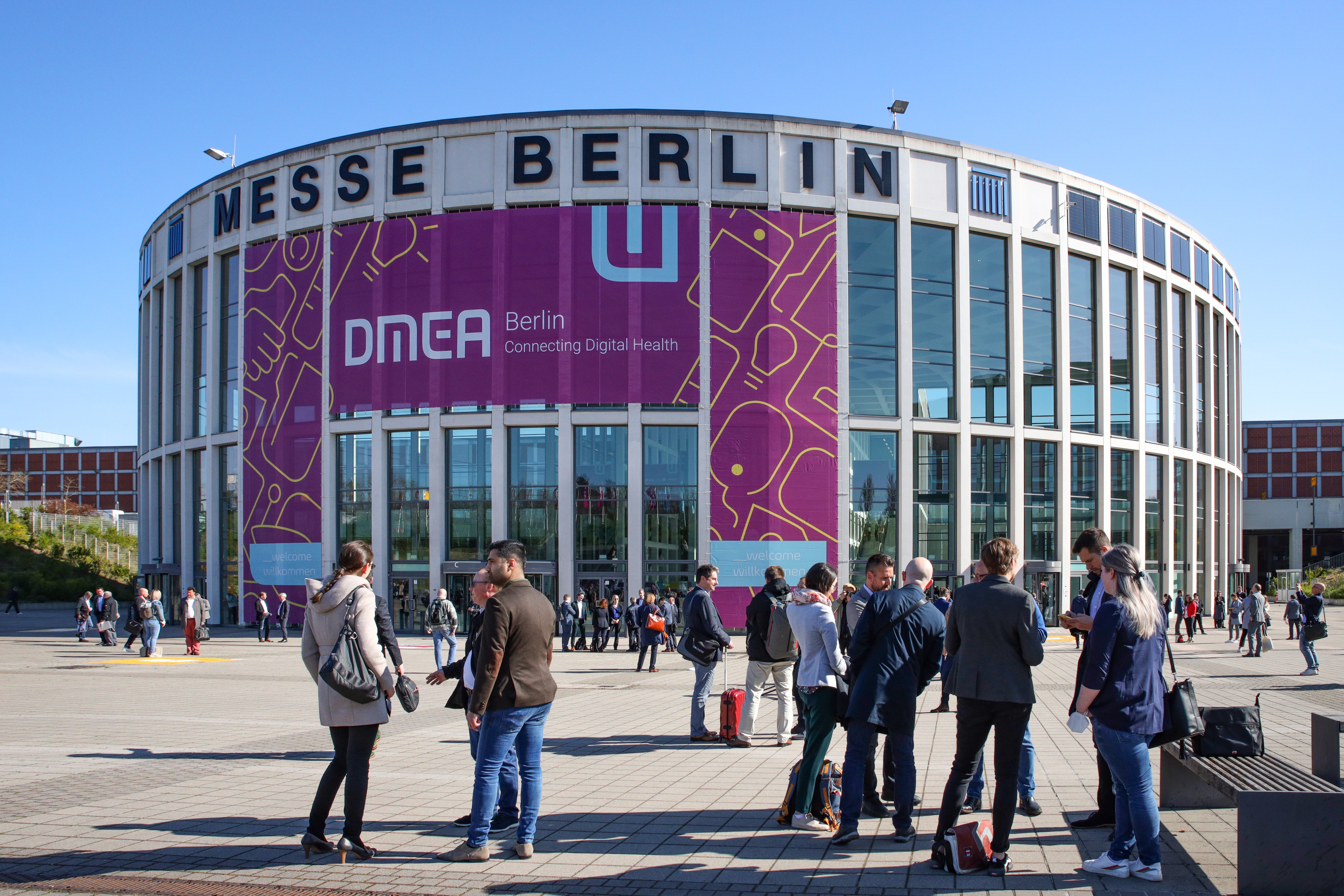 About DMEA
DMEA is Europe's leading event for health IT which gathers decision-makers from every area of the healthcare sector – including IT specialists, physicians, hospital and nursing care executives as well as experts from politics, science and research.
Every year, the DMEA dedicates a separate program to the central topic of "young talent and careers".
In 2020 and 2021, the DMEA could only take place digitally due the pandemic. In 2021, more than 4.000 participants registered for the digital version of DMEA, and around 2.500 viewers watched the program items every day.
In 2019 a total of 11,000 trade visitors came to DMEA to find out about the latest developments and products, acquire qualifications and establish important industry contacts.
The DMEA is organized by the Bundesverband Gesundheits-IT - bvitg e.V. (Federal Association for Health IT) and is hosted by Messe Berlin GmbH. The DMEA is also organized in cooperation with the industry associations GMDS (German Society for Medical Informatics, Biometry and Epidemiology) e.V., BVMI (Professional Association of Medical Informatics) e.V. and with the content-related participation of KH-IT (Federal Association of Hospital IT Managers) e.V. and CIO-UK (Chief Information Officers - University Hospitals).
You can also find this press release on the Internet: www.dmea.de
Twitter: twitter.com/dmea