---
Page content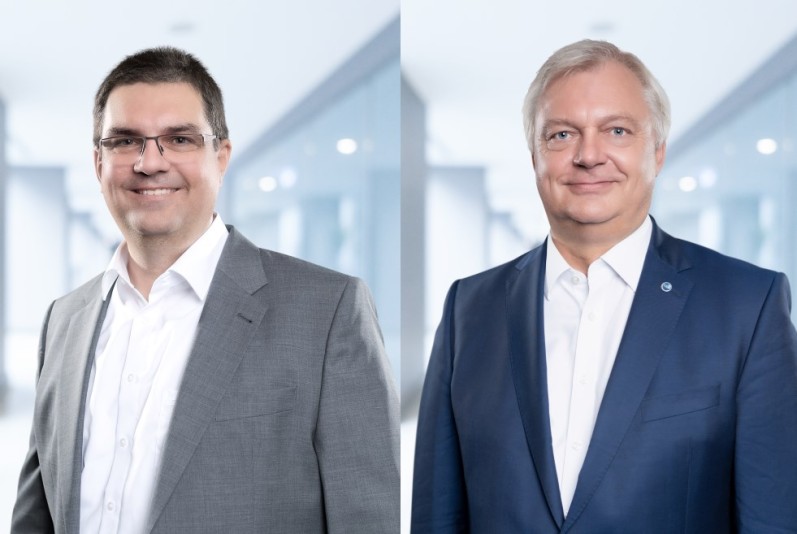 "The sectors are converging, and that includes IT"
Hospital IT is at a crossroads, with hospitals opening up digitally to patients. Integrated emergency facilities are seeing hospitals merging with outpatient care. Many of them are still struggling with obsolete IT systems that soon will no longer exist. According to Bernhard Calmer, managing director of CGM Clinical Europe, and Michael Schösser, Managing Director CGM Clinical Europe and Area Vice President Business Area KIS, CompuGroup Medical (CGM) is ready to provide experienced guidance. At DMEA the company wants to impress with its portal solution and is positioning itself as an experienced partner for hospitals in search of digital orientation.
The hospital IT market is in flux. Politically, there are big reforms afoot too. For hospital IT departments and customers, what are the pressing issues?
Bernhard Calmer: Concerning digital policies there are currently two all-important topics. One is the development programme that arrived with the Hospital Future Act (KHZG). We are working at full speed, and so are the IT departments of our customers. That continues to occupy huge time and effort, but it also means digitalisation in the inpatient sector is making substantial progress. The second topic politically speaking is SAP's announcement to discontinue IS-H while not replacing it in the S4/HANA world. That has a significant impact on invoicing and patient administration in many hospitals. The result is that parts of the market for hospital workplace systems are restructuring because in Germany and even more so in Austria an important hospital information system previously integrated in SAP can no longer be used. For a number of hospitals that means reorientation, so of course DMEA is coming just at just the right time.
Michael Schösser: For hospitals the main thing is not just software. Demand for orientation is much greater. Staff numbers are in short supply everywhere. The days when several senior physicians could be made available for large IT projects are over. That is why deciding how to realise a project is almost as important as which software to use. The issue is no longer products and product strategies but also how to get new solutions under way for customers with minimum cost and effort.
Let's first talk about the Hospital Future Act and in that context the main topics interesting customers and CGM.
Michael Schösser: In our opinion the main topics are patient portals on the one hand and the funding requirements impacting hospital jobs and medication on the other. As a result of the Hospital Future Act, digital medication and patient portals in particular will finally become the norm in Germany. With the CLICKDOC patient portal we at CGM have finally developed a portal that not only meets funding requirements but also allows hospitals to comprehensively involve the patient. It covers admissions, assistance during inpatient treatment as well as discharge management and transferring to rehabilitation.
What is the story with hospital information systems and upgrading them? What can you offer hospitals there?
Bernhard Calmer: With CGM CLINICAL we have recently developed a completely new modular hospital information system based on our open G3 technology. For anyone needing to replace their hospital information system now or in the future that is a very attractive option for various reasons. At DMEA, a representative of the IT department of Universitätsklinikum Hamburg Eppendorf will be on hand to tell us why they decided on G3. As regards patient administration, our approach is that an invoicing system alone is no longer enough. Additional financial controlling tools are needed, as previously offered by SAP IS-H. That is why we are developing a revenue cycle management (RCM) tool that we will incorporate into the SAP accounting system. An RCM of this kind has huge advantages. If a patient is admitted during the night they can immediately be registered in accounting, at which point information is instantly available on whether they occupied a two-bed ward the last time and paid for it. At DMEA in Berlin we will have colleagues from SAP on the stand who can explain that from an accounting perspective.
You will actually be setting up a small stage where your topics will be presented by you or your customers and partners.
Bernhard Calmer: Precisely. We are indeed doing this for the first time in order to address a somewhat larger audience than through individual talks, which we will also be having. G3 will also be one of the topics on the stage. We will also be presenting MEDICO and options for connecting with the telematics infrastructure (TI) and will be showing how outpatient and inpatient care are converging with the help of IT solutions. That is an increasingly important issue for hospitals: with outpatient care on the increase, as pushed for by federal government, individual sectors are converging and that includes IT. More and more hospitals want to offer outpatient services. Integrated emergency facilities are also beginning to realise this.
Michael Schösser: With healthcare departments converging, new challenges are presenting themselves for hospital management too. Other information, and crucially more of it is needed. One has to take a holistic view of the entire enterprise rather than of one inpatient facility and one or two medical centres. That is why we recently took over KMS Vertrieb und Services AG, a leading supplier of data warehouse solutions in the German healthcare system. The company's eisTIK software is able to generate data from a variety of systems and analyse it in virtually endless detail. With it, management can obtain precisely the holistic view of complex supply systems it requires. We will be presenting things on this topic too at DMEA, so visiting us is definitely worthwhile.
Will cloud applications also be a topic for CGM at DMEA?
Bernhard Calmer: We will see in the years to come what role cloud applications will play in hospital workplace systems. At DMEA cloud applications will be among the topics on our VISUS stand. With the JiveX Healthcare Connect SaaS solution the focus is on networking and simple and secure communication of medical data within specific communities. Cloud applications in radiology can be of great benefit where teleradiology and AI are involved. Concerning AI, we are presenting our AI diagnostic platform on the VISUS stand, which we have developed in collaboration with Westdeutscher Teleradiologieverbund and MedEcon. AI tools can be of great help particularly to inexperienced radiologists and in the case of uncommon diagnoses, and can improve medical care and make it safer. Our founder once said: no one should have to die because information is missing. That still holds true and is our guiding principle.