---
Page content
Extensive interoperability platform meets a standardised interface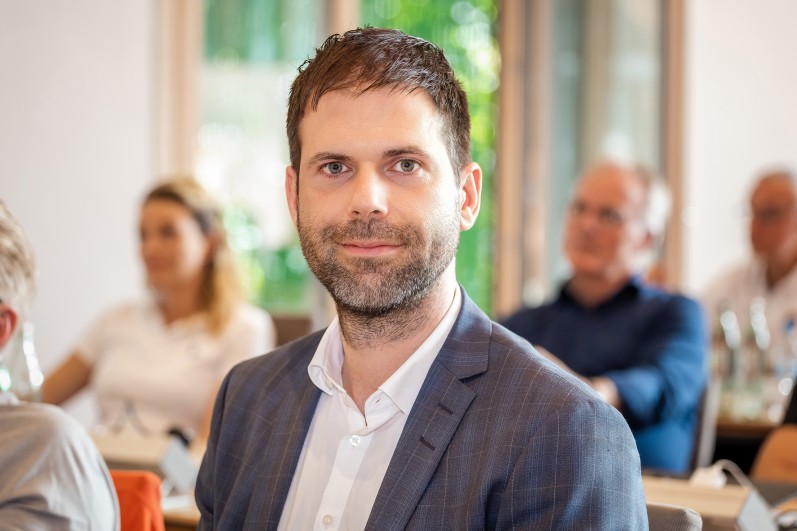 In order to achieve comprehensive and user-friendly digitalisation in hospitals it is essential to ensure that IT applications within a facility are not just technically and semantically interoperable, but also have standardised controls. This is necessary in order to retain staff enthusiasm and to limit the amount of training that is needed. Daniel Heine, sales manager for NEXUS AG, explains how this can be achieved with an efficient interoperability platform that also enables the hospital to achieve effective external communication.
What capabilities must an IT platform in a hospital have order to justify being called an interoperability platform?
It should not only be capable of facilitating communication between the hospital and the outside world, but must above all combine various applications within the hospital or clinic. Firstly this has a technical dimension. However, bringing together these various functions should also incorporate the operating interface, not only if, for example, the departmental system uses the same technical basis as the hospital information system (HIS), but also with all the other applications.
To what extent do the solutions available from NEXUS AG satisfy these requirements?
We have two decisive software layers that provide the framework for our clinical applications. Firstly there is the standardised operator interface, which we refer to as the "NG UX platform". This enables our customers to display overarching functions such as rights/role management, login, other data protection functions, but also a process control that is not application-specific and can be deployed with all technical solutions. On the other hand, and at a deep level, we have our Vendor Neutral Archive and IHE Repository NEXUS / VNA. And in between are the specialised applications such as NEXUS / HISNG, diagnostic platforms for heart catheters, ophthalmology, endoscopy or the laboratory, or specialised solutions for areas such as intensive care medicine and obstetrics. Depending on their function, staff can access these solutions seamlessly and in a standardised form. The outstanding feature is that, even if the products are from an outside source, wherever possible , and with the aid of web technology, we adapt the user to our standard interface. This represents an in-depth integration via FHIR and micro-services of a kind that is quite unusual on the market. This offers our customers an enormous advantage: user guidance is intuitive and the training outlay is comparatively low, because the operating process is similar everywhere.
Why exactly is NEXUS / VNA so important as the basis for the entire set-up?
The VNA is of course the data storage level, which is required for filing and recovering data, regardless of whether it comes from the HIS, the radiology information system (RIS) or other applications. However, NEXUS / VNA extends far beyond this function of providing or archiving data. It is our central interoperability layer, acting as an IHE repository with attached FHIR store. We not only use it internally but also for external communication. If a clinic wishes to communicate with the Medical Services (MS) or with their care provider portal, or if there is a future need to incorporate the insured person's electronic patient file (EPF), such applications are accessed via the VNA. This guarantees interoperability! We can also use NEXUS /VNA to connect to the growing number of registers, such as the cancer register and DIVI (German Interdisciplinary Association for Intensive and Accident Care) register. Research data interfaces supported by such functions as anonymisation and pseudonymisation are also located at this level. The data extraction process is flexible, and can be achieved via IHE/FHIR or also via XML or HL7.
Regarding portals: This is one of the main themes of the Hospital Future Act (KHZG), which is under discussion currently throughout this sector. What can your portal provide?
A portal has in fact been included in our range of products for some time already, and consequently we can call on many years of experience. The decisive question is how incoming data can show up in a structured form in the hospital IT system, and how it can be processed further in an effective way. A document grab that only allows the commands 'Activate' , 'Read' and 'Print' is only of limited use to customers. It is therefore our objective to apply the data in a structured form in the system. To do this, if necessary, we run an OCR full text recognition for incoming documents, search for keywords and pre-sort the information. If this is done sensibly a high percentage of the incoming data can be filed in a structured form, and then, of course, it can be made available to other systems via the VNA platform. The link between the portal and VNA is in any case attractive: this is something that we have achieved, for example, with the Virtual Hospital NRW, which operates with the NEXUS / PORTAL and NEXUS / VNA (which has had EFA 2.0 certification since 2016). It is really fascinating to see all the developments that are taking place at the present time in this area.
Which topic would you like to highlight in particular, especially in the context of the DMEA?
Firstly we are delighted that the DMEA, in all probability, will be taking place in a physical sense. Like many others, we have relied a lot on online facilities during the pandemic. But actually being able to see customers and interested persons, giving them the hands-on opportunity to experience and operate software tools is something that is difficult to replace. One of the subjects that we would like to focus on at the DMEA, along with the Vendor Neutral Archive and the portal solutions, is NEXUS / ADVANCED REPORTING – a strategic approach that makes the work of medical documentation much easier. Es originated in special findings but is becoming increasingly relevant in other areas, especially all those concerning somatic documentation and in psychiatric findings. We support the documentation through a combination of structured terminologies developed by expert associations, decision diagrams and (where it is meaningful) data read-outs from medical devices. In this way it is possible to prepare parts of the medical findings documentation, in some cases in its entirety, automatically or at least with extensive support. This saves time but also has a qualitative dimension: in this way we can guarantee the creation of documentation that is at all times standardised , and therefore suitable for ongoing use, in conformity with the relevant terminologies, for example SNOMED CT or LOINC.
What are the major topics for the coming 12 months?
We are all heavily involved in implementing the KHZG (Hospital Future Act) sponsorship project. Substantial investment has been made and the next phase is one in which we join forces with our customers to apply the solutions. Our platform concept offers us an advantage, because the training outlay is easily understandable. In the area of project implementation we also rely on tried and tested methods and are confident that we are well equipped for the tasks ahead. In addition the work of setting up mobile infrastructures continues to be a subject of major interest to us, both in the context of the KHZG and beyond. A number of establishments still have deficiencies in this area. And we are in a good position: the standardised user interface operates in the same way on desktops, smartphones and tablets. All the subject matter is available everywhere.