---
Page content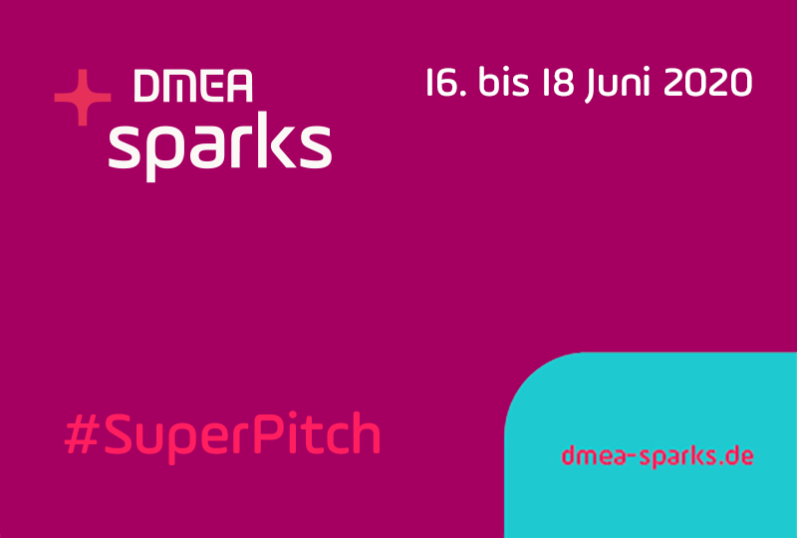 Super-Pitch: Clear the stage for ideas, products and companies
For the longest Digital Health Elevator pitch in the world, we want to present as many product, company and idea presentations as possible at DMEA. Entry is free of charge for everybody.
Not only since Corona has the digital health industry been able to come up with a whole range of innovative ideas and solutions. At DMEA sparks we want to give them a stage with our new Super-Pitch format. In order to enable as many people as possible to participate, the submission is completely free of charge.
When and where will the pitch be presented?
The combined series of videos – categorized by topic – can be viewed on our DMEA YouTube channel during the virtual DMEA, and after these dates on demand. The pitch is being publicly promoted on the DMEA website, through our DMEA newsletter and on social media.
What are the key topics?
A selection can be made from the following key topics. In principle, a video can be submitted on more than one topic:
Apps & Wearables
Drug Therapy Safety
Digital Communication Solutions in Healthcare
Digital Health Innovations
Digital Patient Empowerment
Digital Archiving and Documentation
Digital Health Records
Documentation and Archiving in the Age of Digitalisation
Interoperability / Standardization
IT in Outpatient and (partially) Inpatient Nursing Care
IT in Clinical Nursing Care
IT Security
AI
Medical Technology meets IT
Mobile Health
Quality and Knowledge Management
Startups
Telemedicine
What are the requirements and how can I submit an entry?
Your Super Pitch entry must not exceed 30 seconds and should conform to YouTube image resolution and viewing format requirements. Only the link to your YouTube video need be submitted. You, as the entrant, must upload the video to your YouTube channel via your YouTube account and ensure public access to the video is possible.
Entries can be submitted by filling in the Super Pitch requisite form (PDF, 887.6 kB) and sending it to dmea@bvitg.de no later than 10 June.
For the DMEA YouTube channel click here