---
Page content
April 26, 2022
DMEA – Connecting Digital Health opens with 500 exhibitors and high-profile speakers
What plans does the new federal government have concerning the digital transformation of the healthcare sector? What are the initial experiences of doctors regarding ePrescriptions? What can we learn from Israel in respect of digital health and the use of AI? These are just some of the questions that DMEA – Connecting Digital Health will be asking from 26 to 28 April. For two years Europe's leading health IT event took place in an entirely virtual format. Now, DMEA is once again gathering all the actors on the Berlin Exhibition grounds who are aiming to drive forward the digital transformation of the healthcare sector.
Gerrit Schick, CEO of the German Association of Health IT Vendors (bvitg), the organiser of DMEA:
"In recent months the many advantages of digitalising healthcare have become quite clear. What is also evident is the additional benefits that successful digitalisation can achieve for service providers and patients. DMEA provides a forum for exchanging views on the implementation of the Hospital Future Act, on planning for the TI 2.0 as well as on the opportunities of the electronic patient opt-out. We look forward to discussing the status quo and the best approaches going forward at face-to-face meetings again."
Martin Ecknig, CEO, Messe Berlin:
"Two years of the pandemic have once again shown us how important the digital transformation of the healthcare sector is. What they have also shown us is that face-to-face meetings are essential for the digital transformation to work. That is why I am so pleased that this year DMEA is able to take place again here in-person on the Berlin Exhibition Grounds. More than 500 exhibitors in four halls – it means we are practically back to pre-pandemic levels – and with close to 300 speakers."
DMEA congress with a wide range of topics
Federal Minister of Health and patron of the event Prof. Dr. Karl Lauterbach has announced his participation in the opening of DMEA with a keynote speech. Also taking part with keynote speeches will be Israel's Minister of Health Nitzan Horowitz and Federal Minister of Education and Research Bettina Stark-Watzinger. Overall, some 300 speakers will offer practical insights into industry topics – including the electronic patient file, ePrescription, digital health applications, data protection, IT security and digital patient empowerment.
Exhibitors present health IT solutions in four halls
Inside the exhibition area around 500 exhibitors, ranging from startups to market leaders, will display their innovations. Topics will include data-driven surgery using AI, digital surgery, patient portals, software for medical practices and digital processing in A&Es. The DMEA highlights provide an overview of the products and services being shown at DMEA.
Programme for newcomers at DMEA
Whether a Meet2Match for career beginners, guided career tours or the DMEA Newcomer Award for university graduates – DMEA has a wide-ranging programme for newcomers in order to bring students and young professionals together with companies.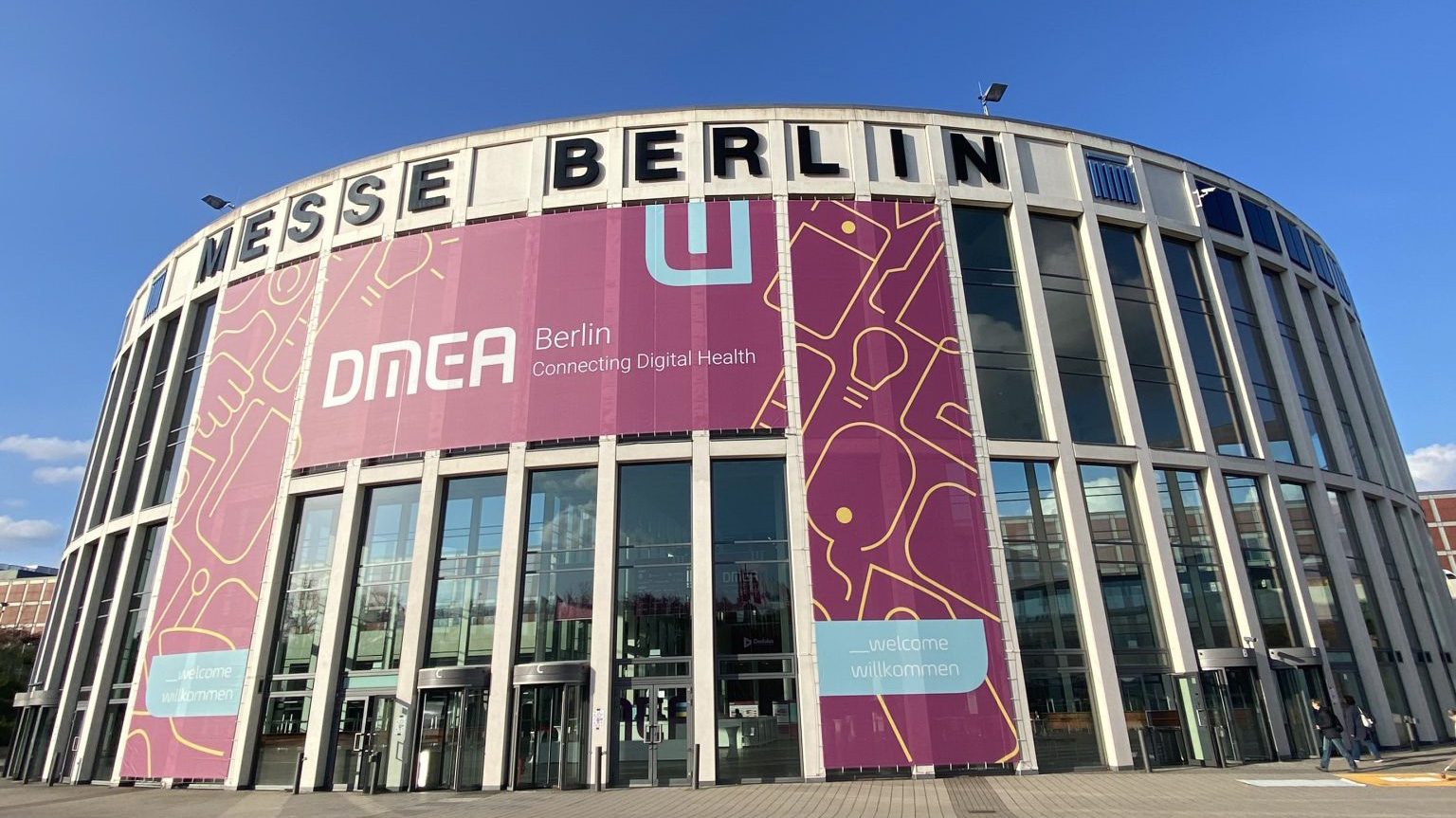 About DMEA
DMEA is Europe's leading event for health IT which gathers decision-makers from every area of the healthcare sector – including IT specialists, physicians, hospital and nursing care executives as well as experts from politics, science and research.
Every year, the DMEA dedicates a separate program to the central topic of "young talent and careers".
In 2020 and 2021, the DMEA could only take place digitally due the pandemic. In 2021, more than 4.000 participants registered for the digital version of DMEA, and around 2.500 viewers watched the program items every day.
In 2019 a total of 11,000 trade visitors came to DMEA to find out about the latest developments and products, acquire qualifications and establish important industry contacts.
The DMEA is organized by the Bundesverband Gesundheits-IT - bvitg e.V. (Federal Association for Health IT) and is hosted by Messe Berlin GmbH. The DMEA is also organized in cooperation with the industry associations GMDS (German Society for Medical Informatics, Biometry and Epidemiology) e.V., BVMI (Professional Association of Medical Informatics) e.V. and with the content-related participation of KH-IT (Federal Association of Hospital IT Managers) e.V. and CIO-UK (Chief Information Officers - University Hospitals).
You can also find this press release on the Internet: www.dmea.de
Twitter: twitter.com/dmea