---
Page content
November 09, 2022
DMEA call for papers: Supporting digitalisation of the healthcare sector together
Health meets digitalisation: from 25 to 27 April 2023 at DMEA – Connecting Digital Health, all actors aiming to promote health IT will be gathering on the Berlin Exhibition Grounds.
At DMEA23, experts from business, science and practical fields will also have an opportunity to shape the congress program on all three days of the event. From now until 8 December they can submit their papers for the event.
Who can apply?
The call for papers is open and free to anyone working on the digital transformation of the healthcare sector, ranging from researchers, users in the medical and nursing professions, to startups and major companies in health IT.
The abstracts submitted must relate to one of the 13 topics which the DMEA advisory committee has specified for next year's event. They are:
• Off into the future! Digital competence as a basis for a successful digital transformation
• Consumer health und tech giants
• Digitalisation in medical practices and medical care centres. The key to better care?
• Digitalisation in nursing – are you still searching or reaping the benefits?
• Digitalisation strategy in healthcare and nursing
• European Health Data Space and Digital Identities: Status, Impact and Outlook
• Information security in the outpatient and inpatient environment
• AI and decision-making support in practical use
• New perspectives on health data use and analysis
• SaaS and the end of the age of primary system dinosaurs: What does it mean for us?
• Telemedicine services in day-to-day use
• Networked, interoperable and secure medical technology: How to?
• Between the fast and slow lane – is changing lanes still possible? Expectations, experiences, outlook for the TI, EHR and ePrescriptions
Information events on the call for papers
Open info sessions will be held on 17 November and 1 December for all interested parties. They can learn more about the application process and the requirements and open questions can be clarified.
Following the deadline on 8 December all the abstracts will be assessed by a panel, which will include representatives of associations, ministries, self-government, industry and science.
Please find the link for submissions and further information on the call for papers below: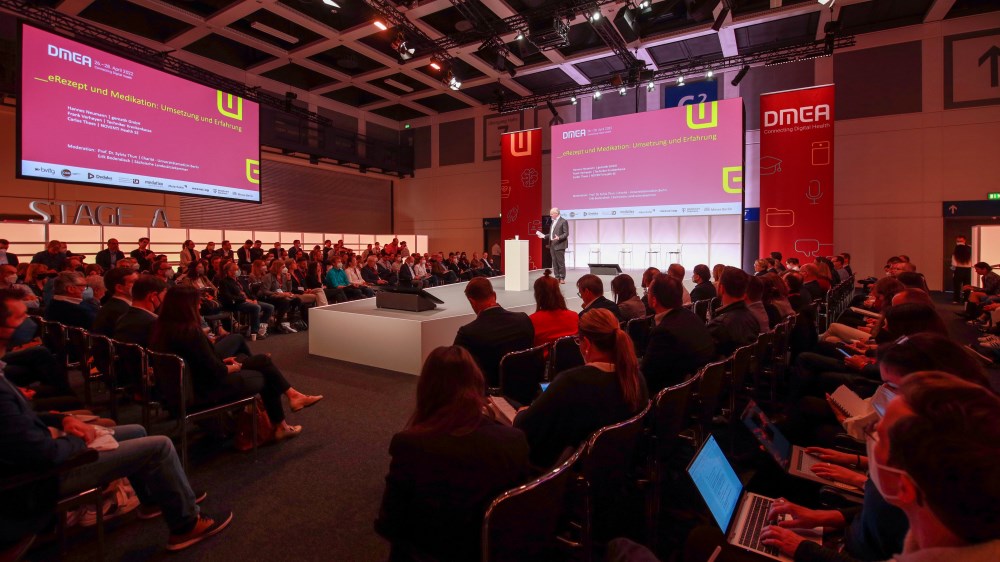 About DMEA
DMEA is Europe's leading even for health IT. It gathers decision-makers from every area of the healthcare sector – including IT specialists, physicians, hospital and nursing care executives as well as experts from politics, business and science.
Every year DMEA features a programme devoted to Newcomers and Careers, a topic of major importance.
In 2022, after two years of virtual events due to the pandemic, DMEA was able to take place again in-person on the Berlin Exhibition Grounds. More than 11,000 attendees, over 500 exhibitors as well as speakers from Germany and around the world took part in the event.
DMEA is held by the German Association of Healthcare IT Vendors (bvitg) and organised by Messe Berlin. It is organised in cooperation with the following industry associations: the German Association of Healthcare IT Vendors (bvitg), the German Association for Medical Informatics, Biometry and Epidemiology (GMDS), the German Medical Informatics Professional Association (BVMI). The National Association of Hospital IT Managers (KH-IT) and the Chief Information Officers of University Hospitals (CIO-UK) provide contributions on the subject matter.
You can also find this press release on the Internet: www.dmea.de
Twitter: twitter.com/dmea
LinkedIn: linkedin.com/dmea