---
Page content
March 06, 2023
Get accredited for DMEA 2023 now!
Please note that accreditation can only be obtained online and not on the grounds at the event.
Accreditation will grant you free access to the trade fair and the Press Centre in Hall 6.3 for the duration of DMEA.
Trade visitors can also secure their ticket to DMEA 2023 from the online ticket shop. An unlimited pass costs 179 euros and grants admission on all three days of the event. Holders of a combined seminar ticket and unlimited pass costing 299 euros can visit one of the three seminars at DMEA as well as the event on each of the three days. Students of all ages and trainees can still visit DMEA free of charge. To do so, they must register at dmea@bvitg.de. Information on free tickets can be found here.
Tickets are available online only from the ticket shop. No ticket offices will be open on the grounds.
We look forward to welcoming you from 25 to 27 April 2023 at DMEA. We hope you enjoy the fair and wish you every success.
The press team at DMEA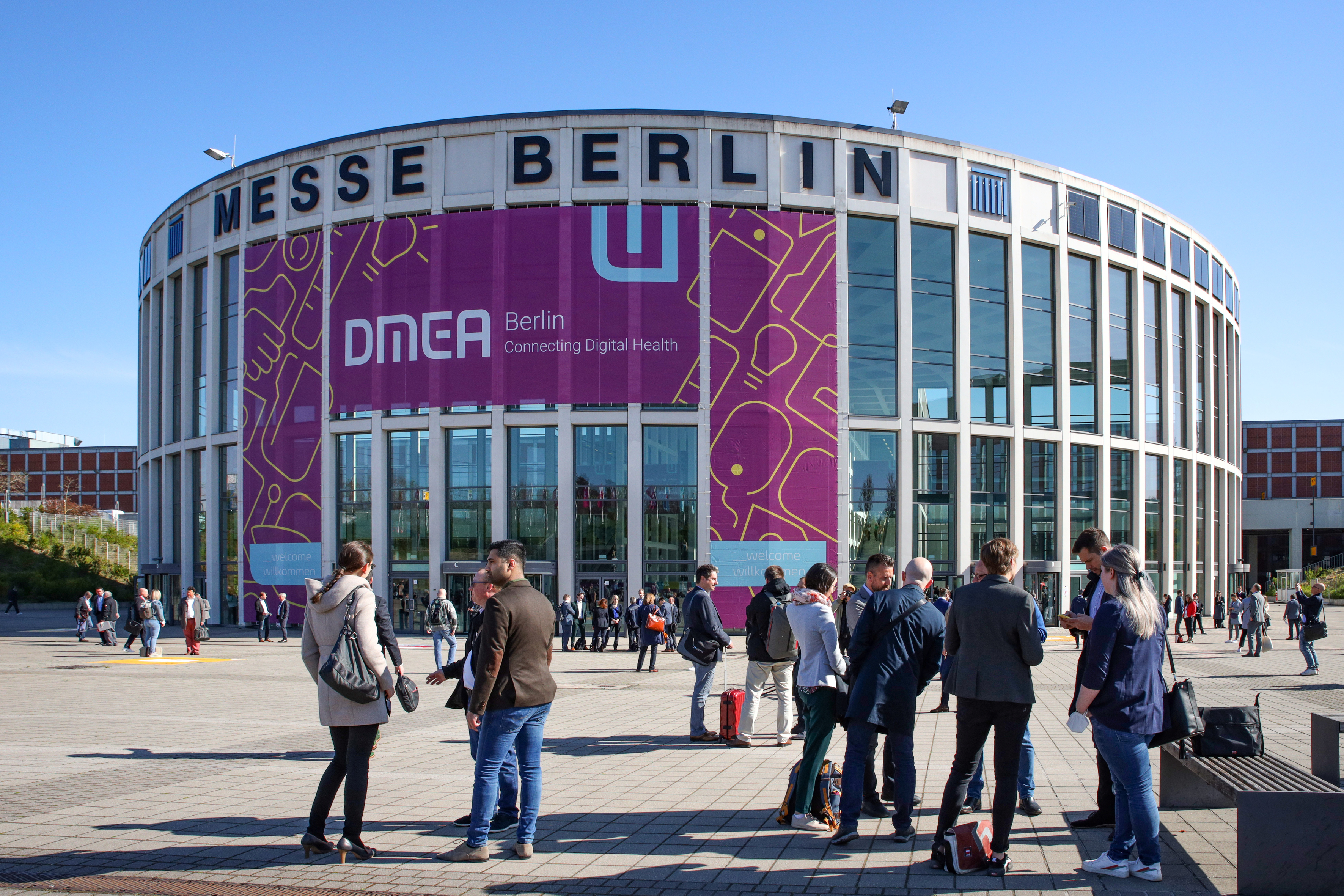 About DMEA
DMEA is Europe's leading event for health IT which gathers decision-makers from every area of the healthcare sector – including IT specialists, physicians, hospital and nursing care executives as well as experts from politics, science and research.
Every year, the DMEA dedicates a separate program to the central topic of "young talent and careers".
2022, the DMEA was able to achieve an increase in visitors: More than 11,000 trade visitors attended DMEA - plus over 500 exhibitors and 300 national and international speakers.
In 2020 and 2021, the DMEA could only take place digitally due the pandemic. In 2021, more than 4.000 participants registered for the digital version of DMEA, and around 2.500 viewers watched the program items every day.
The DMEA is organized by the Bundesverband Gesundheits-IT - bvitg e.V. (Federal Association for Health IT) and is hosted by Messe Berlin GmbH. The DMEA is also organized in cooperation with the industry associations GMDS (German Society for Medical Informatics, Biometry and Epidemiology) e.V., BVMI (Professional Association of Medical Informatics) e.V. and with the content-related participation of KH-IT (Federal Association of Hospital IT Managers) e.V. and CIO-UK (Chief Information Officers - University Hospitals).
This press release can also be found on the internet: www.dmea.de
Press photos are available here.
You can watch videos of DMEA on the YouTube channel of DMEA.
Twitter: twitter.com/dmea
LinkedIn: DMEA - Connecting Digital Health