---
Page content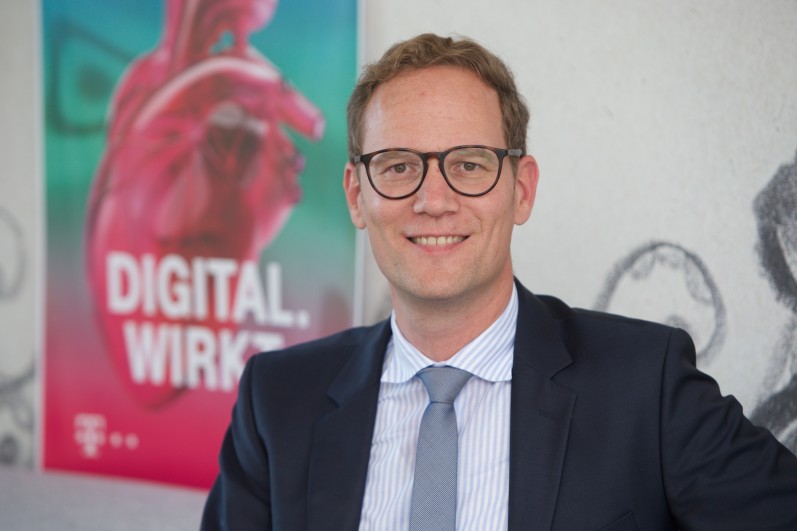 Goldpartner-Interview: "Our health system is often talked about as if it were analogue"
February 10, 2020 –Millions of patients use healthcare apps. And fewer and fewer doctors carry thick stacks of paper around the ward with them on massive trolleys. Instead, they type findings as bits and bytes directly into hospital IT systems. "Our healthcare system is more digital than its reputation. People like to talk at trade fairs as if it were still totally analogue," says Mark Düsener, Head of Telekom Healthcare Solutions. "The process of eliminating digital islands has begun. Before we achieve fully networked coverage, however, the country needs to roll up its sleeves." At the Telekom booth, DMEA visitors can take a look at the solutions available today to connect doctors and patients.
Mr. Düsener, what is the most important topic for Telekom at DMEA 2020?
That's an easy question to answer: networking, networking, and more networking.
That sounds appropriate for Telekom. But what do you mean exactly?
Our healthcare system is more digital than its reputation. People like to talk about it at trade fairs. In reality, we see doctors with iPads and patients with health apps. Or state-of-the-art digital diagnostic technology. Of course, German hospitals have spent too much on beds and concrete. 1.5 percent of the total budget for IT is too little. Scandinavians invest four, US clinics six to eight percent. Politics clearly needs to act here. But that doesn't mean we should just complain from the sidelines. That would distract from the task at hand: networking. We welcome the fact that politics is currently pushing hard. The process to eliminate digital islands has begun. The country still needs to roll up its sleeves until it is fully networked.
What examples of networking will be on show at the DMEA?
One example is our Telehealth 360 platform. TH 360 is a value-added application for telematics infrastructure. It maps integrated care processes via clinical pathways. And enables applications such as teleconsil and video consultation. Doctors can create case records in TH 360 and make patient data available to other doctors. At the DMEA, we are also connecting a diabetes app to our iMedOne hospital information system via TH360. Integrated, networked solutions like this are the future.
What does networking mean for hospital IT?
Not all hospital IT systems are suited to networking. The same applies to certain healthcare, pharmacy or laboratory software. For everyone, however, it is clear that systems that cannot be networked will in future no longer exist. Networking will ensure that these markets continue to consolidate. Therefore, with iMedOne, we opted for a HIS from the beginning that incorporated virtual networking. Consequently, iMedOne was 'TI ready' from an early stage. Another example of networked IT services is our patient discharge management. This solution will be on show at the fair.
Telekom also has customers abroad. Are there solutions available outside of Germany which a German healthcare manager should have a look at?
They could, for example, visit our customer Netcare, the largest private hospital chain in South Africa. We implemented an exciting Internet of Things and HIS rollout project there. Doctors and nurses use iPads to access all of the clinic's medical products. This helps immensely, especially in the field of intensive care. Employees with the appropriate authorization see in real time which devices deliver what information. You do not have to stand in front of the device or a patient monitor. We introduced this technology at Netcare together with our solution iMedOne. This increases the safety of treatment enormously.
Keyword security. The telematics infrastructure is always critically questioned ...
... which is fundamentally not wrong. It is absolutely right that the federal government has called on hackers to put the electronic patient record through its paces. Because criminal attacks on information technology are increasing. The methods are becoming more and more perfidious. Attacks on hospitals show this. But security must never stand still. Suppliers must continuously check their technology, analyze emerging security gaps and, if necessary, close them with a software update. Those who know about programming know that this is a continuous process. The level of security of the TI is very high. BSI and Gematik ensure the safety of the technology through the very complex testing and approval procedure.
... if it doesn't end up at the cheese counter.
In the case, the safety of the technology itself was not the issue, rather the safe transport route after the order. We were not affected, so just quickly: The recipient must be clearly identifiable. The Chaos Computer Club has shown that the identification procedures unfortunately have different levels of reliability. We and other providers have had very good experiences with the PostIdent process.