---
Page content
Hospital digitization with perspective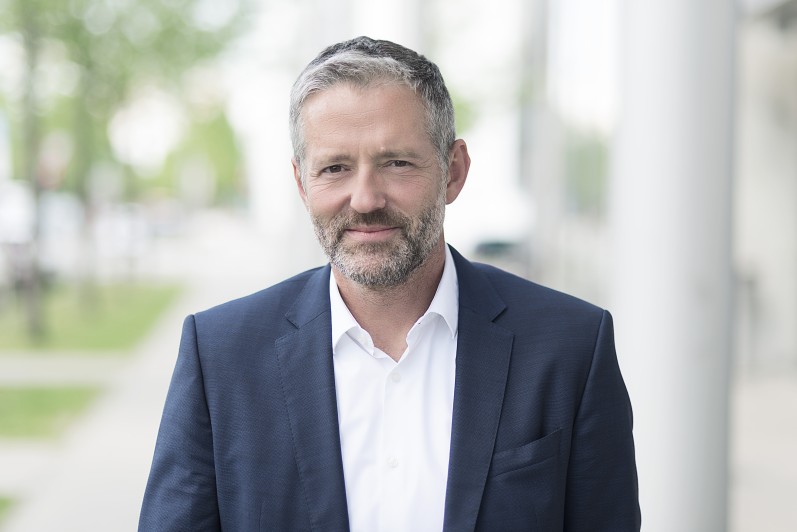 Matthias Meierhofer, CEO and company founder of Meierhofer AG in the DMEA Gold Partner Interview
As an owner-managed, medium-sized healthcare IT specialist for hospitals, Meierhofer AG is celebrating its 35th birthday this year. At DMEA 2022, CEO and company founder Matthias Meierhofer plans to present, among other things, a significantly expanded managed services portfolio. Here, he also reveals why continuity is a competitive advantage and what his company will take from the pandemic years into the new normal.
What are Meierhofer AG's highlights at DMEA, which is expected to take place on site?
We have several highlights that will make for an exciting show. On the one hand, we are celebrating our 35th company anniversary this year, and together with the visitors we want to look primarily to the future. In terms of content, the Hospital Futures Act (KHZG) and its funding provisions are a focal point. We will present the Meierhofer Academy, which we have significantly developed during the pandemic and which is one of the most comprehensive training offers in German-speaking healthcare IT. In addition - and this is a big step for us - we will present a greatly expanded Managed Services portfolio. So it's well worth stopping by.
Let's start with this issue: What does your new managed services portfolio look like in concrete terms? And what are the advantages of these offerings for customers?
We've been offering managed services on a selective basis for a long time, but this is now taking on a new dimension. Very recently, the first hospital entrusted us with application support for its hospital information system (HIS) M-KIS. We will be able to provide more details on this at the DMEA. In general, as part of our managed services, we also handle incident and update management in addition to application management. So we do everything that has been the daily work of an HIS administrator in many hospitals up to now. In future, we will also be offering the same all-round package for our patient data management system M-PDMS. From the middle of the year, hospitals will also be able to outsource the technical operation of their data center to us. The great advantage for the hospital is that it can concentrate on its core business of patient care. The important thing is that the Managed Services can be tailored precisely to the needs of the respective facility. In addition, we work with blueprint concepts, which means that customers can adopt existing processes that have already proven themselves elsewhere.
What exactly is the Meierhofer Academy, on which there will also be a presentation at the DMEA?
With the Meierhofe Academy, we offer training concepts and course content that we have tailored precisely to the needs of hospitals. Thus, depending on requirements, we implement training courses as face-to-face events, as a purely online format, or as a combination of both forms. Digital content can be provided via the Meierhofer Academy learning platform or via the customer's own platform. In addition, we digitally map complete training concepts up to the learning success control, for different professional groups. During the pandemic, we were able to provide our customers with all the tools they needed to successfully go live under difficult conditions. This was particularly impressive at the Contilia Group, where we trained around 3,500 users in a very short time. But even without a pandemic, a platform like this has massive advantages - just think of training courses for doctors and nurses. They can be managed much better this way and also tailored much better to individual needs.
Meierhofer AG has now been in business for 35 years in a HIS market that is currently once again on the move, with takeovers and mergers being the key words. Is a takeover an issue for you?
As a result of Asklepios joining us a few years ago, this is not an issue for us. In Asklepios, we have a strong service provider as an important shareholder that is fully committed to digitization. Nothing better could happen to us and our customers. The Asklepios cluster in Hamburg is now completely digitized, one of the largest digital hospital clusters in Europe. This is fun, and it results in expertise and offerings that also benefit customers outside Asklepios. In the end, what is decisive from the customer's point of view is: What is the perspective of the product I am working with? This is where we as Meierhofer AG can score points. We have always promptly raised our solutions to the next technological level; we guarantee both further development and continuity. By the way, this also applies to our employees: In the last quarter alone, we recorded very strong personnel growth and we will grow again on a similar scale, which clearly speaks for a stable company situation that is designed for the long term.
What are the most urgent challenges in terms of digital policy at the moment?
The KHZG is still important, and it will also take up a lot of space at DMEA. However, it is not the salvation of hospitals, but rather a beginning. In addition, the implementation is quite complex, with the key words being the call-up of funds and partly volatile target criteria. And then, of course, a hospital first has to manage to implement the not exactly small number of digital projects, often with overambitious deadlines. Not infrequently, this simply fails due to a lack of personnel. Beyond the KHZG, the connection to the telematics infrastructure (TI) is developing very slowly, and politicians will have to take care of this in the near future. For manufacturers, this is sometimes really annoying: we invest relevantly in the timely development of e-prescription and ePA, and then e-prescription is postponed indefinitely and ePA is hardly used. The resources we are spending on multiple TI tasks could be put to good use elsewhere. What is going on at the moment is not exactly helpful in terms of user acceptance either. There must be a clear will to implement it. And, above all, the organizational and financial implications of individual regulatory initiatives on the user side must be taken into account. Perhaps the DMEA will help to make this clearer and, above all, more personal to those with political responsibility.